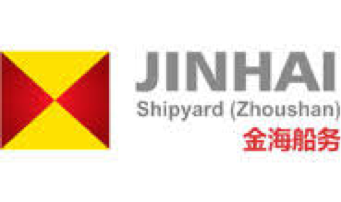 Jinhai Shipyard (Zhoushan)
website:
google map:
https://goo.gl/maps/Chbs7YV6LigfH8is9
Jinhai Shipyard (Zhoushan) Co., Ltd, is a subsidiary of Jinhai Heavy Industry Co., Ltd, founded in Sept. 2005.
Since 2009, JinHai Heavy Industry belongs to HaiNan Airline Logistics (HNA Logistics), itself a member company of the powerful HNA group (www.hnagroup.com), which is active in various business sectors, through HNA Aviation (HaiNan Airlines), HNA Holdings, HNA Capital, HNA Tourism and HNA Logistics.
JHI occupies an area of more than 5 million m2 with workshop areas of more than 700,000 m2. Along the 13,000-meter coastline, JHI has outfitting wharf over 3800 meters and 8 docks with a total capacity of 2.08 million tons. The biggest one has a capacity of 0.5 million tons, which ranks among the best in China and even in Asia. Equipped with two 800t gantry cranes, several gantry cranes of 550t, 450t and 300t, more than 40 gantry cranes from 25t to 150t, JHI has a variety of large-scale automatic shipbuilding and repairing equipments such as 6 production lines pre-treating raw steel material, 2 plane sectional flow production lines, several imported plasma cutting machines, etc. It has main production equipment about 875 sets.
| | | | |
| --- | --- | --- | --- |
| Name | Dock Type(m) | Length(m) | Width(m) |
| Dock 1 | Graving | 400 | 80 |
| Dock 2 | Graving | 240 | 40 |